Speed Test and Information
Broadband speeds explained
When we talk about broadband speed test, it's important that we're clear on exactly which speed we're talking about. Broadly speaking, there are two different types of broadband speed.
Speed from the exchange to your router: Also known as the access line speed, this is the maximum speed between your local telephone exchange and your broadband router. The speed and quality of this connection depends on how far away you live from the exchange.
If you're a Fibre customer, the distance you are from the local exchange will not impact your broadband speeds. All the vital fibre equipment is located closer to you in your local street cabinet (usually green), so the distance between there and your home is important.
Broadband Speed you experience in your home: The actual speed you experience on your computer, games console or any other device connected to your broadband network is known as your throughput speed. This will be lower than your access line speed, as it is affected by factors such as the layout of your home, if you are using a wireless connection and how many devices are connected to your network.
You can find more information about the technical terms used when talking about broadband in our glossary of broadband speed terms.
How download speeds affect you
Your broadband speed test dictates how quickly you can do activities online, such as browse the internet or download programmes. We've put together the table below to help you understand what this may mean for you.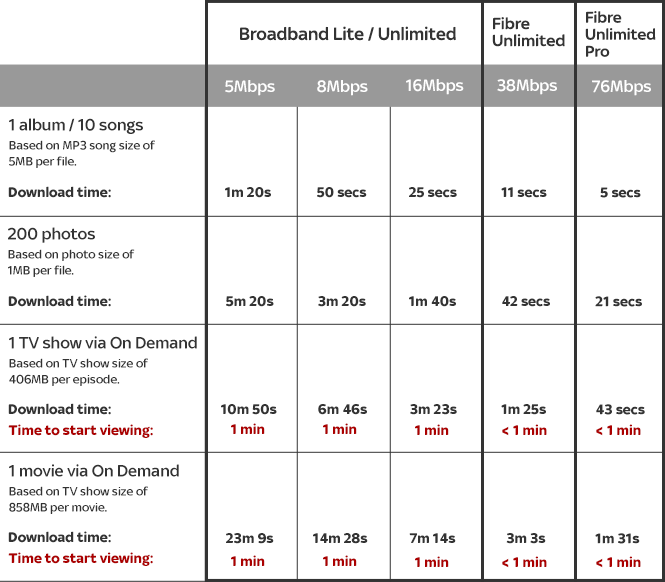 Find the speed from the exchange to your router
Your Hub
If you have a Broadband Hub, you can find your access line speed by using our Broadband speed test. Please make sure you're at home when you run this test.
Other routers
If you have a router that isn't a Sky Hub, you can find your access line speed by following the instructions below. Please make sure you're at home when doing this.
Open a new browser window and type 192.168.0.1 into the address bar, then pressreturn.
When prompted, enter the username admin and the password default.
Once signed in, select Maintenance from the options at the top.
You'll find your access line speed in the Modem section, labelled as DownStream Connection Speed.
If the speed indicated doesn't match your expectations, you should sign into the My Broadband area of your router with your  ID to see if we're in the process of testing your connection. You'll find this information in the Your Connection Details section.
Find the speed you experience in your home
If you'd like to find your throughput speed on your computer or device, there are a number of websites that will measure this for you for free. Enter "Broadband speed test" into a search engine on the computer or device you'd like to test and follow the instructions on your selected site.
If you're not getting the speed to your computer or device that you expected, you can find advice on how to improve this in our step by step guide to fixing problems with your connection.
Why not contact our telephone line team and get some advice on 0800 0132341 or email us here.